In a league of his own
Thursday, Feb 18 2021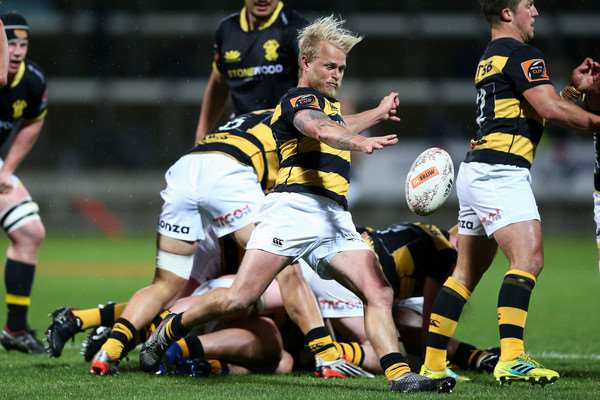 Will Johnston
Taranaki Bulls halfback Warwick Lahmert is used to rucks and scrums, having played rugby at international level.
Now, at the tender age of 34, he's rapidly getting used to rugby league's six-tackle rule.
The versatile sportsman played for the Bell Block Marist Dragons in Saturday's opening round of the Taranaki premier rugby league competition against the Hawera Hawks.
Hickford Park was a complete contrast to what Lahmert's been used in his rugby career. He has played 16 matches for Taranaki and represented New Zealand and England in sevens.
Lahmert says he has long been interested in playing league, but the seasons always crossed over, until now.
In the planning stages of re-introducing rugby league to the province, organisers worked with other codes so there were no clashes that could take players away from the game.
That worked for Lahmert, who knew some players in the Bell Block team and twisted his arm to play.
"Dylz [Dylan Hall] had been asking me for a couple of years to play," he said.
Bell Block coach Enele Fidow, who played for Lahmert's rugby club Spotswood United, also persuaded him to jump ship.
While Lahmert didn't initially use the league competition to train for rugby, he said there would be fitness benefits for when he turns out for his rugby club.
"It beats a massive pre-season too. At least we have games at the weekend, which is awesome."
Lahmert said there were notable differences between the codes.
"There's a lot more tackling than rugby. But a lot of the time you are tackling with someone [in your team].
"Fitness-wise, I find rugby a bit more difficult unless you were defending in the middle. That would be tough."
The physicality of league was also a surprise to Lahmert, who is known to put his body on the line.
"Some big boys put some big hits in."
In Bell Block's strong 50-10 win against Hawera, Lahmert played in the halves after he thought he would be on the wing.
"It was good fun being in the middle."
Overall, he enjoyed his first match and was welcomed by the team.
"They're a good bunch of lads at the Dragons. It's always awesome making new mates."
In the earlier match on Saturday, Waitara Bears beat Coastal Cobras 36-28.
Photo: Warwick Lahmert in the familiar role of halfback for the Bulls.