Horses, riders brave scary situations
Wednesday, Feb 17 2021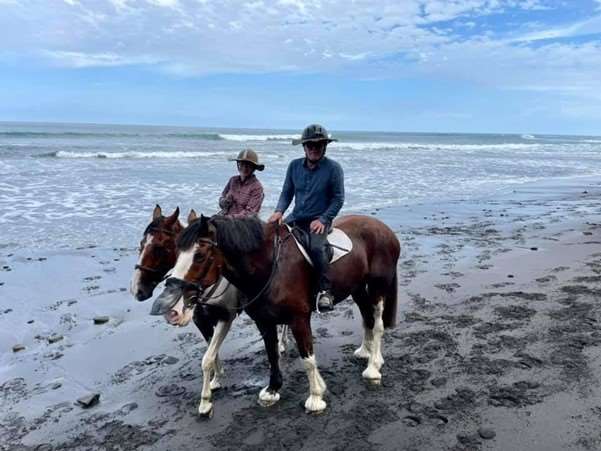 Plunging into swampy streams and riding around rocky headlands with the surf rushing in were among the exhilarating moments at the annual Waikawau Trek at Waitangi weekend.
Coaxing inexperienced or nervous horses into seemingly scary situations is possible in the hands of a confident rider. The presence of a more experienced horse can help too. Surrounded by their kind, the horses all managed to brave the surf and the streams. Not to mention the long Waikawau Tunnel where the exit is but a dim light at the far end – a small signal that there is a way out. All horses made it through without too much drama. Confronting these natural obstacles gave all the riders a real buzz of achievement and lots to boast about in the festivities later.
Horse-riding is not a sport for those lacking courage and fitness. There was much of that on display with the 60-plus horse-riders saddled up for three days in the Awakino region. Half the riders were over 60 as well.
The beauty of horse sports is that they attract people of all ages, and this annual trek is a fine example. Neil Florence (photo at centre) took up riding for the first time at age 58. With the loan of a good horse, he is loving the partnership, the scenery from horseback and the social side of being a horseman.
The owners of Waikawau Station have shared their piece of paradise for many years and riders now visit from as far away as Northland and Tauranga because of its special reputation. Horse people travel all over the North and South Islands many times a year to visit backcountry stations like this to experience New Zealand in this unique and gentle way.
Recreational horse-riding has undergone a growth spurt in the past two to three years. Most weekends over the summer period will see between 25 and 50 horses and riders in the Taranaki region gathering for two to four-hour rides over challenging hills and down to rivers or the sea.
The horses love the change of pace from showjumping or dressage, and riders enjoy the change of scenery and catching up with friends. The growth in trekking is due to horse clubs finding them a relatively easy fundraiser, and also because of the increasing number of over 50s returning to, or taking up, horse-riding.