France to Okato is a big jump
Tuesday, Feb 23 2021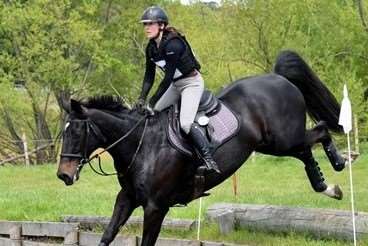 Bringing fresh ideas to the Taranaki equestrian scene is Emilie Husillos, an Okato-based eventing rider.
Born in France, Emilie is a freelance graphic designer with EH DESIGN and she has created the logos, signage, and websites for a raft of equestrian clubs and professional riders. Things on the equestrian scene now look smart and stylish.
She has also responded dynamically to the volunteer burnout that is affecting nearly all New Zealand sports and voluntary organisations by creating clinics and horse events. Dreamed up through lockdown in 2020, Emilie began running 'Cavaletti and Grid' clinics for horses and riders all around Taranaki as soon as Covid-19 levels allowed it.
"They were a sell-out," says Emilie, who is from the Loire Valley, and moved to New Zealand in 2008. "Riders everywhere booked in for these fun events, which taught them and their trusty steeds how to step over, around and through a bunch of poles, cavalettis and grids. These clinics were all done in the name of fitness, trust and agility, and attracted riders of all ages to a learning experience that is new and different."
But it didn't start there. In 2018, Emilie (who has been riding horses since the age of 5) created the Taranaki Derby Series – a crowd-pleaser event where riders and horses muster control and bravery to jump a series of cross country and show jumping fences. "Taranaki had not seen anything like this before and these events were also very well attended," she says.
Traditionally, the horse clubs have hosted training and competition events but with members being stretched for time, it is not always possible to run them. Emilie's entrepreneurial approach of running an event like a business venture has been a great boost to the local equine scene.
Not stopping there, Emilie has worked with Eventing Taranaki to create a Taranaki Eventing Series that was planned to have its final at the Egmont A&P showgrounds in Hawera on February 27 and 28. Unfortunately, that event has had to be cancelled.