Kaitake boosts thirds comp
Friday, Mar 26 2021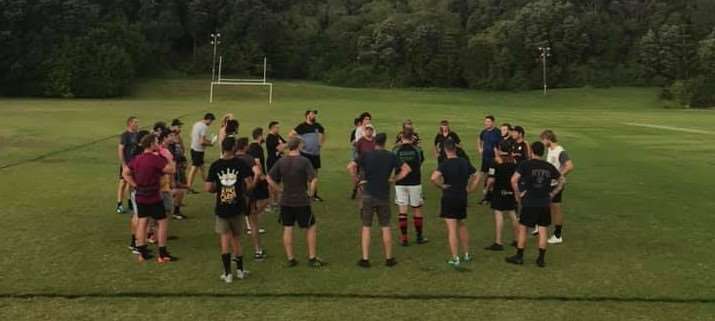 Will Johnston

Covid-19 created many silver linings in sport, just ask the Kaitake Rugby Club.

An influx of returnees wanting to re-establish their roots in Taranaki wanted to play social rugby and thought the club was the best fit.

The club had enough players to enter a team in Taranaki's senior thirds– the first time since 2009.

The club replaces New Plymouth Old Boys, which failed to enter a team in the grade.

Kaitake team organiser Brad Bennett said the club is perfect for players who have busy lives and just want to play rugby.

"They didn't want to commit to a really busy senior rugby team," he said.

"We were looking for a neutral club and someone said Kaitake had been trying to get a team up and running for a couple of years."

The word started to spread quickly among Bennett's friends.

"All of a sudden we had some big games of touch on the Gully and had some meetings out at Butlers with some of the local guys."

In a couple of weeks, the team grew from 20 to 30 at training with 80 followers on its Facebook page.

"It's been all positive and the boys are ready to rock and roll."

Even some of the club's stalwarts attended training sessions to scope out the team.

Bennett confirmed former Japanese, Maori All Black and Hurricanes midfielder Bryce Robins will play for the team and heard more notable names are interested.
"Chris Masoe's back in town and he could be coaching Inglewood. He also said he wanted a little run. I'm not sure if he is or not.
He said former Taranaki and Southland rep Nathan Hohaia could be coming along too.
Bennett said with any team that starts up there is hearsay about who will be turning up.
"You never know," he said.
Bennett believes informal teams are the future of rugby.
"Hearing from a number of guys who play senior rugby who work six-seven times a week, something not as high impact as senior rugby and to play with your mates is suiting a lot more people these days," he said.
Kaitake isn't the only new team this year, Inglewood will enter a team in the women's competition.
Taranaki's club rugby season features a staggered start with Premier, Division 1 and Colts starting on Easter weekend and Division 2 beginning a week later.