Southern Rugby celebrates milestone
Friday, Apr 02 2021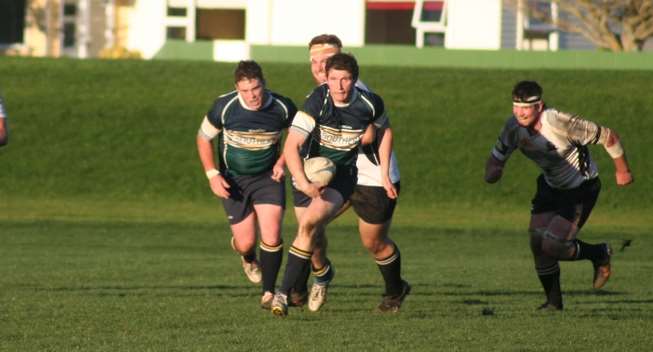 Will Johnston

Southern Rugby Club will finally celebrate its 25th anniversary during the opening round of Taranaki's CMK premier club rugby competition this weekend.
The Hawera-based club postponed the event last year amid the Covid-19 lockdown.
Club chairman Vernon Cleaver said the postponement hasn't impacted the celebrations at all.
"The people that were coming were always coming, the ones that were really focused on it and had history and involvement in the club," he said.
The weekend's format remains the same with a meet and greet on Friday, matches against Tukapa on Saturday, followed by All Blacks assistant coach John Plumtree speaking in the afternoon. On Sunday, former All Black and rugby pundit Ian Jones will be the guest speaker.
On the field, Cleaver said playing defending champions Tukapa at Hicks Park will be a good strength of character in the only premier match on Saturday.
"They're a good town club and we have a lot of respect for them. We're happy to play them."
Southern features many experienced players including Lewis and Jackson Ormond, Brent Ashton-Landers, Cody McGrath and Sean White.
"I'm pretty confident we will be competitive. It's looking reasonable but you never actually know."
Tukapa's squad remains largely unchanged from last year.
The day features an old timer's match after the Division 1 and Colts games.
Meanwhile, the other three matches will be played tomorrow.
Beaten finalists Inglewood will travel to the Rahotu Domain to play Coastal.
Inglewood's large squad features former Spotswood United first-five eighth Josh Jacomb.
There are also a number of local players returning to the club from university.
Inglewood is only missing three players from last year's final.
Coastal's recruitment programme is something to admire with 11 new players in the squad.
It features former Hurricanes prop Ben May who will boost the forward pack.
Coastal pointed out Logan Crowley, Denzel Sofeni-Calder and Beni Kalin as players to watch out for this season.
Stratford/Eltham play Clifton at Victoria Park.
Both squads are packed with talent with Clifton picking up former Spotswood United and Taranaki prop Jared Proffit.
Stratford/Eltham features former Whanganui Collegiate halfback Adam Lennox and former Palmerston North Boys' High School midfielder Lafo Ah Ching.
New Plymouth Old Boys will host Spotswood United at Vogeltown Park in the remaining match tomorrow.
Both teams had tough pre-season campaigns with injuries and other sports making players unavailable.
All matches kick off at 2:45pm.
CMK Club Rugby Week 1:
Good Friday, 2:45pm:
Coastal vs Inglewood, Rahotu Domain
Stratford/Eltham vs Clifton, Victoria Park
New Plymouth Old Boys vs Spotswood United, Vogeltown Park
Saturday, 2:45pm
Southern vs Tukapa, Hicks Park