Boys go head-to-head in premier netball
Wednesday, Apr 28 2021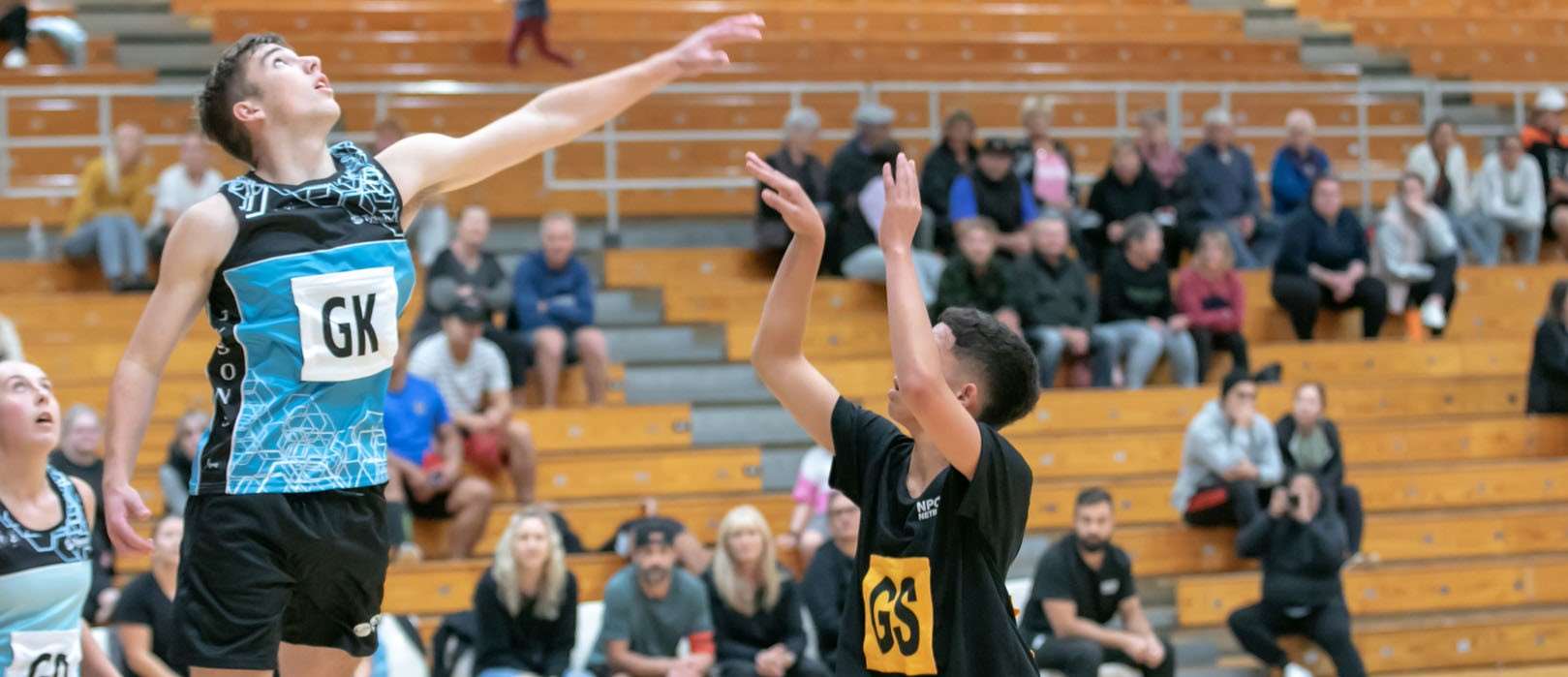 Will Johnston


Best friends off the court, opponents on it.
Tysons East goal keep Dominic Williams-Riding and New Plymouth Old Boys goal shoot Ariki Pullen were going head-to-head at one end in week two of the Taranaki premier one netball competition.
It was also the first time in Netball Taranaki, and possibly New Zealand history where two males were marking each other during a premier match.
Netball Taranaki changed it's rules to allow males to play premier netball until the age of 18, up from 16 last year.
But being 15, those regulations didn't worry the two, who are use to playing basketball together.
They said there were plenty of laughs during the four quarters.
"We had a good chat during the game when the ball was at the other end, but other than that when it came down, we were serious, we play hard," Williams-Riding said after Tysons' 67-28 win on Thursday.
He said both were giving each other 'some banter'.
"If the pass was bad, I would say it was a bad pass and have a good laugh."
He admitted it was surreal playing in an otherwise dominated female sport.
"It's challenging because all the girls push you around, but they make you understand the game.
"You learn all their footwork and stuff and moving around the ball."
Pullen echoed the same comments and said it was an adjustment for him coming from basketball.
"It's tough and physical. They [females] know the game a little bit more than me, it's a learning for me," he said.
"I reckon it's good though, I've really enjoyed playing premier netball."
While there has been growth in male participation numbers Taranaki netball across the grades, Pullen said it's a game for everyone.
"Just give it a go, everyone thinks it's girls sport, but any gender can play."
Williams-Riding achieved bragging rights in the match, those rights will be on the line again come the second round when they mark each other again.
On the neighbouring court, New Plymouth Girls' High School suffered its second loss in as many matches to Naumai 46-30.
Naumai goal shoot Mikayla Pihema-Taiaroa slotted 26 goals in a 100 per cent effort during the match. The performance was backed up by Josie Simons, who scored 20 from 26 attempts at goal attack.
In the remaining match Inglewood beat Stratford/Eltham 67-29 at the TET Stadium in Stratford.
After the second round of grading in the Premier one competition, Inglewood and Tysons East are two from two and lead the competition with 14 points.
In Premier two on Friday, Inglewood currently leads the competition with its second win this time against Raukura 53-35.
Tukapa beat Inglewood High School 36-19 and Sacred Heart Girls' College picked up its first win of the season against Tysons West 47-39.
In Premier three on Thursday, Bell Block Marist Dragons pipped Hawera High School 35-37, Stratford/Eltham beat The Locals 40-37 and Naumai thrashed Inglewood 66-38 to lead the competition.