New sponsor for premier netball
Wednesday, May 05 2021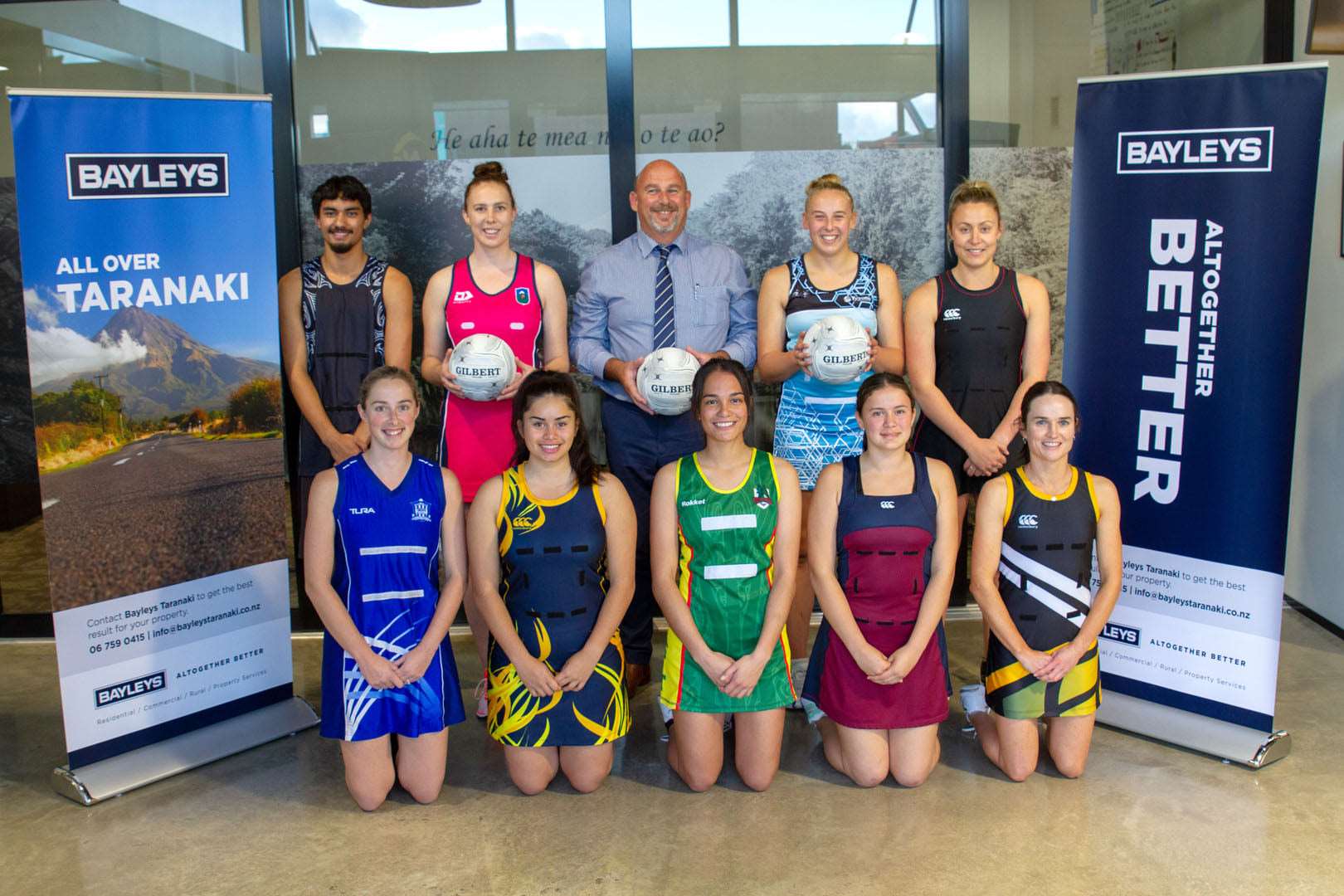 Bayleys Real Estate's commitment to the community continues after it became the principal partner of Netball Taranaki's premier league.
The firm based in new premises on Courtney Street, will have the naming rights to all three premier competitions that is played on Thursday and Friday evenings.
Bayleys Taranaki branding will be visible at all Netball Taranaki's premier venues in New Plymouth, Waitara, Opunake, Stratford and Hawera, and the operations tower at the Waiwhakaiho Courts in New Plymouth.
Netball is the largest participated sport in Taranaki and has the highest rates of female participation in New Zealand. Traditionally a female dominated sport, Netball Taranaki has made a commitment for more diversity and inclusion locally.
Bayleys Taranaki general manager Dean File said the company is proud to support Netball Taranaki and is looking forward to growing a strong partnership not only now, but into the future.
"It's very rewarding to be able to support organisations such as Netball Taranaki and assist them in being able to provide suitable competitions across the region. We realise how every dollar is so vital in keeping sport strong and available for everyone in Taranaki.
File said Bayleys Taranaki is very focused and committed supporting a wide range of community groups and are now excited to commit to supporting Netball Taranaki.
"The fit with Netball Taranaki is perfect with our teams also covering the region from our well-located offices in New Plymouth and Hawera. We have specialists across all sectors, including residential, lifestyle, rural, commercial and industrial as well as property management.
"Bayleys are a proud New Zealand owned business, built on solid family values with strong community support across the country."
Netball Taranaki general manager Jaqua Pori-Makea-Simpson is excited to secure a principal partner for the year.
"Bayleys has a strong name around the Region and shares the same values and commitment to the community. It's really important for us to align with a brand that supports local, and we are excited to announce the rebrand of our premier competitions to Bayleys Premier Netball League. We thank Bayleys for its support and we're looking forward to seeing this partnership grow."
Bayleys has existing partnerships with many community and sporting organisations, including Make a Wish Foundation, Taranaki Chamber of Commerce, Multi-Ethnic Extravaganza, Flanagan Cup, Taranaki Rugby, Bowls Taranaki and New Plymouth Surf Riders Club.
Bayleys Taranaki is part of the Success Realty Group, which includes Bay of Plenty, Waikato and Taranaki regions and is a franchise under the wider Bayleys Realty Group with over 90 offices New Zealand wide and also in Fiji.
Bayleys also has an affiliation to Knight Frank, an impressively large international real estate company.